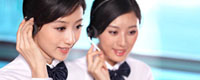 Name: Sunny Zhang
Tel: +86-13612786446
Mobile: +86-13612786446
E-mail: info@cnsunnylight.com
Add: No.233, Puxinhu Business Street, Tangxia, Dongguan, GD, CHINA
Skype: sunnyztbenin



Dongguan Sunnylight Electronic Technology co., LTD., founded in 2014, is a collection research and development, production, sales in the integration of high-tech enterprises.
The main products are HID auto xenon headlamps;
Off road lamp;
LED car light and LED light flashlight.
Which HID auto xenon lamp H1, H3, H4, H7, H8, H9, H10, H11, H13, 9004, 9005, 9006, 9007, 5202, 880, 881, D1, D2, D3, D4, etc. All cars headlamps.
With complete LED car light, accept customer OEM order, incoming sample ordering, and the development of new products.
Flexible in the company's sales way, to accept the specified address delivery, customized packaging, product certification, and for overseas customers the best mode of transportation, cost savings.
Adhering to the "quality first, customer first" business philosophy, and constantly create value for customers.
Willing to work with you to create a better future!
Total: 2
Page: 1 / 1
First
←Previous
Next→
End